Regent's Park, London, NW1 4NU GB
Faits rapides
Meilleur choix de places du West End
Disponibilité des places en temps réel
Choisissez vos propres places
Votre réservation est enregistrée instantanément dans le système du théâtre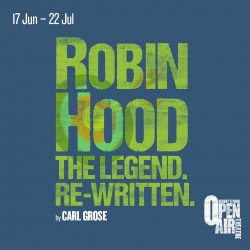 Robin Hood
Séances à partir de : samedi 17 juin 2023
Séances jusqu'à : samedi 22 juillet 2023
Durée : 2 hours 20 min (incl. interval)
Places

à partir de 30,99€
Réserver
Information
Tarifs Réduits
A propos de Robin Hood
Horaires
Séances à partir de : samedi 17 juin 2023
Séances jusqu'à : samedi 22 juillet 2023
Durée : 2 hours 20 min (incl. interval)
Description de Robin Hood
Think you know the story of Robin Hood? Think again.
Prepare for a thrilling new take on the classic tale, set in a desperate, divided kingdom where only the truly cunning can outwit the sheriff's terrifying wrath. Promising humour, heart and a forest full of secrets, expect the arrows to fly in a bold new direction as trickery and truth collide with fiery results.
Told with epic storytelling, stirring songs, and absolutely no green tights (well, maybe just a flash), in the ancient, wooded heart of Regent's Park, Robin Hood is a riotous folk tale for our times.
From the writer behind Dead Dog in a Suitcase (and other love songs), Grand Guignol and the West End musical The Grinning Man.
 
Jeunes Enfants
Age guidance: This musical is most suitable for ages 8+. Children under the age of 4 will not be admitted.
Billets réduits pour Robin Hood
Nous avons une grande sélection de billets pas cher pour Robin Hood à Londres. Vous pouvez économiser jusqu'à 70% du prix du billet! Si vous recherchez des billets réduits pour Robin Hood au Regent's Park Open Air Theatre, toutes nos offres sont ci-dessous.
Il n'y a pas d'offres spéciales disponibles pour le moment, mais nous avons toujours des places pas chères pour Robin Hood au Regent's Park Open Air Theatre.