Piccadilly Circus, London, SW1Y 4XA GB
Faits rapides
Meilleur choix de places du West End
Disponibilité des places en temps réel
Choisissez vos propres places
Votre réservation est enregistrée instantanément dans le système du théâtre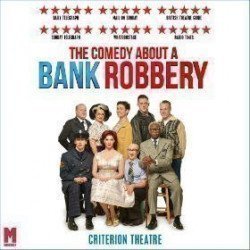 The Comedy About A Bank Robbery
4,7/5
-

basé sur

557

avis
Séances jusqu'à : dimanche 1 novembre 2020
Durée : 2 hours 30 minutes (One interval)
Places

à partir de 13,99€
Réserver
A propos de The Comedy About A Bank Robbery
Jeunes Enfants
Suitable for 11+ 
Informations Importantes
Moderate sexual innuendos throughout. Suitable for 11+
Horaires
Séances jusqu'à : dimanche 1 novembre 2020
Durée : 2 hours 30 minutes (One interval)
Description de The Comedy About A Bank Robbery
Mischief Theatre's smash-and-grab hit The Comedy About A Bank Robbery is a fast, fabulous comedy caper and the funniest show in the West End!
Summer 1958. Minneapolis City Bank has been entrusted with a priceless diamond. An escaped convict is dead set on pocketing the gem with the help of his screwball sidekick, trickster girlfriend… and the maintenance man. With mistaken identities, love triangles and hidden agendas, even the most reputable can't be trusted. In a town where everyone's a crook, who will end up bagging the jewel?
Book now for this dynamite comedy. It would be criminal to miss it!
★★★★★ "This is the funniest show in the West End" The Telegraph
★★★★★ "A fast and fabulous comedy caper is a joyful night out" The Times
Prochaines représentations de The Comedy About A Bank Robbery au Criterion Theatre
aujourd'hui
24 janv. 2020
19:30
dimanche
26 janv. 2020
15:00
dimanche
26 janv. 2020
19:00
Critiques de The Comedy About A Bank Robbery
4,7 sur 5
basé sur

557

avis
Notes globales :
Acteurs
Musique
Costumes
Histoire
Eclairages
Recommandé pour :
Tous (76%)
Familles (81%)
Adolescents (85%)
Couples (90%)
Fans de théâtre (90%)
Derniers avis des spectateurs

Impressionnant !
Un spectacle rocambolesque, loufoque, drôle et des acteurs impressionnants de vivacité! On en reste le souffle coupé, quelle énergie ! Les chansons sont très bien chantées et le style très sixties est irrésistible. On a passé un super moment !
Ecrit le 12 janvier 2020 par Brigitte, Montreuil, France

Génial
Ecrit le 25 février 2019 par Christophe, Chaptelat, France

Dynamique et tres drole
Tres sympa et humour tres anglais (basé sur le comique de situation et les jeux de mots)
Ecrit le 02 décembre 2018 par Pierre, Versailles, France

très drôle et energiqénergique. à voir
Ecrit le 13 août 2018 par Stéphanie, Sevres, France

Mise en scène créative. Très bons acteurs.
Les acteurs apportent toute leur énergie à la pièce. Le jeu de scène est impressionnant et inventif. Il y a plusieurs jeux de mots qui nécessitent un bon niveau d'anglais.
Ecrit le 30 janvier 2018 par Claude, Braine-le-comte, Belgium

Genial
Ecrit le 13 avril 2017 par Cecile, St Felix Rt, France