2 Charing Cross Road, London, WC2H 0HH GB
Faits rapides
Meilleur choix de places du West End
Disponibilité des places en temps réel
Choisissez vos propres places
Votre réservation est enregistrée instantanément dans le système du théâtre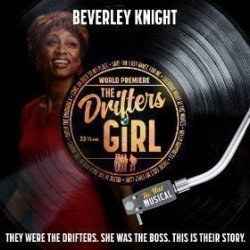 The Drifters Girl
Séances à partir de : vendredi 1 janvier 2021
Séances jusqu'à : samedi 19 mars 2022
Acteurs: Beverley Knight
Places

à partir de 26,49€
Réserver
A propos de The Drifters Girl
Informations Importantes
Please note: Beverley Knight is not scheduled to perform in The Drifters Girl from 17-22 January 2022.
Horaires
Séances à partir de : vendredi 1 janvier 2021
Séances jusqu'à : samedi 19 mars 2022
Acteurs:
Beverley Knight
Description de The Drifters Girl
THEY WERE THE DRIFTERS. SHE WAS THE BOSS. THIS IS THEIR STORY.
Coming to the West End Autumn 2021, discover the remarkable story of THE DRIFTERS, one of the world's greatest vocal groups, and the truth about the woman who made them.
The Queen of British Soul BEVERLEY KNIGHT stars as Faye Treadwell, the legendary manager of THE DRIFTERS, who, alongside her husband, fought for three decades to turn Atlantic Records' hottest vocal group into a global phenomenon.
With an unbelievable soundtrack of some of the most iconic songs in history including Save the Last Dance for Me, Under the Boardwalk, Kissin' in the Back Row of the Movies, Stand by Me, Come on Over to My Place and Saturday Night at the Movies.
Prochaines représentations de The Drifters Girl au Garrick Theatre
mercredi
6 janv. 2021
14:30
mercredi
6 janv. 2021
19:30