Ce spectacle est maintenant fermé.
Faits rapides
Meilleur choix de places du West End
Disponibilité des places en temps réel
Choisissez vos propres places
Votre réservation est enregistrée instantanément dans le système du théâtre
Ce spectacle est maintenant fermé.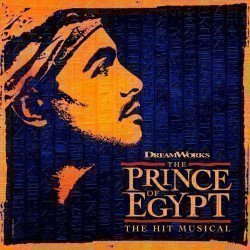 The Prince of Egypt
4,6/5
-

basé sur

257

avis
A propos de The Prince of Egypt
Horaires
Description de The Prince of Egypt
Don't miss your chance to experience the epic emotion, soaring music and breathtaking dance of The Prince of Egypt, the extraordinary hit musical from GRAMMY® and Academy Award®-winner Stephen Schwartz (Wicked, Godspell).
Journey through the wonders of Ancient Egypt as two young men, raised together as brothers in a kingdom of privilege, find themselves suddenly divided by a secret past. One must rule as Pharaoh, the other must rise up and free his true people; both face a destiny that will change history forever.
With a huge cast and orchestra of 60 artists, this spectacular production is based on the classic DreamWorks Animation film and features the Academy Award®-winning song When You Believe.
Don't miss out – playing until 8 January 2022!
Important COVID Entry Requirements
Mask
You are required to wear a mask at all times while inside this venue.
Proof of vaccine and/or test
You are required to show proof of a negative Covid-19 test or proof of vaccination in order to attend this performance.
Health check
When you arrive at this venue, you may be asked to fill out a health questionnaire or have your temperature taken.
Covid safety
This venue has additional Covid-19 safety measures in place to ensure the health and well-being of the staff, performers, and guests.
This venue is complying with the latest industry 'See It Safely' guidelines.
Critiques de The Prince of Egypt
4,6 sur 5
basé sur

257

avis
Notes globales :
Acteurs
Musique
Costumes
Histoire
Eclairages
Recommandé pour :
Tous (80%)
Familles (91%)
Adolescents (84%)
Couples (87%)
Fans de théâtre (90%)
Derniers avis des spectateurs

Très belle musique. Effets spéciaux extraordinaires
Ecrit le 28 février 2020 par Eric, Paris, France