Wyndham's Theatre
32-36 Charing Cross Road, London, WC2H 0DA GB
A l'Affiche du
Wyndham's Theatre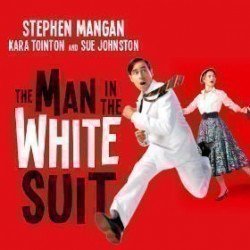 The Man In The White Suit
Wyndham's Theatre
4,6/5
-

basé sur

49

avis - (Lire les avis)
4,6

49

avis
Places

à partir de 17,99€
Couples (86%)
Fans de théâtre (98%)
i
Stephen Mangan and Kara Tointon return to the West End to star in the world premiere of the classic Ealing comedy The Man in the White Suit, adapted and directed by Sean Foley.    
When Sidney Stratton (Stephen Mangan) invents a fabric that never gets dirty and never wears out, manufacturers and trades unions are terrified by the threat it poses to their industry and their jobs. Only Daphne (Kara Tointon) the mill owner's daughter, shows Sidney any support as the bosses and workers chase the man in the white suit determined to destroy them both. This fast-moving comedy reunites Stephen Mangan and Sean Foley who also created the Olivier award-winning production Jeeves and Wooster. 
Séances jusqu'à : samedi, 11 janvier 2020
Acteurs: Kara Tointon, Stephen Mangan
The Man In The White Suit, Londres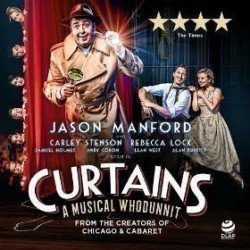 Curtains
Wyndham's Theatre
Places

à partir de 21,49€
It's murder putting on a new musical – literally! Jessica Cranshaw, star of the new Broadway-bound musical Robbin Hood, has been murdered on stage on opening night! The entire cast and crew are suspects. Time to call in the local detective, Frank Cioffi, who just happens to be a huge musical theatre fan. With a nose for crime and an ear for music, Frank has his work cut out trying to find the killer whilst giving the show a lifeline.
Starring Jason Manford (The Producers, Chitty Chitty Bang Bang, Guys and Dolls)and Carley Stenson (Les Miserables, Legally Blonde, Shrek, Spamalot and Hollyoaks), this hilarious whodunnit is packed full of catchy songs, unforgettable characters and plot twists galore! From creators of Cabaret and Chicago, this Tony award-winning backstage murder mystery musical will have audiences laughing and guessing right to the final curtain.
Séances à partir de : vendredi, 13 décembre 2019
Séances jusqu'à : samedi, 11 janvier 2020
Acteurs: Carley Stenson, Jason Manford
Curtains, Londres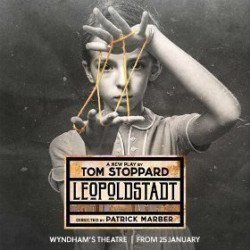 Leopoldstadt
Wyndham's Theatre
Places

à partir de 21,49€
Vienna in 1900 was the most vibrant city in Europe, humming with artistic and intellectual excitement and a genius for enjoying life. A tenth of the population were Jews. A generation earlier they had been granted full civil rights by the Emperor, Franz Josef. Consequently, hundreds of thousands had fled from the Pale and the pogroms in the East and many found sanctuary in the crowded tenements of the old Jewish quarter, Leopoldstadt.
It was not to last. Half a century later, this family, like millions of others, has re-discovered what it means to be Jewish in the first half of the 20th century.
LEOPOLDSTADT is a passionate drama of love, family and endurance. It is Stoppard's most humane and heart-breaking play.
Séances à partir de : samedi, 25 janvier 2020
Séances jusqu'à : samedi, 13 juin 2020
Leopoldstadt, Londres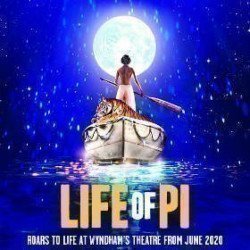 The Life of Pi
Wyndham's Theatre
Places

à partir de 35,49€
After a cargo ship sinks in the middle of the vast Pacific Ocean, there are five survivors stranded on a lifeboat - a hyena, a zebra, an orangutan, a Royal Bengal tiger, and a sixteen year-old boy named Pi. Time is against them, nature is harsh, who will survive?
Based on one of the most extraordinary and best-loved works of fiction – winner of the Man Booker Prize, selling over fifteen million copies worldwide – and featuring breath-taking puppetry and state-of-the-art visuals, Life of Pi is a universally acclaimed, smash hit adaptation of an epic journey of endurance and hope.
Séances à partir de : lundi, 22 juin 2020
Séances jusqu'à : dimanche, 4 octobre 2020
The Life of Pi, Londres
Equipements du Wyndham's Theatre
Climatisé
Bar
Toilettes pour handicapés
Ecouteurs infrarouge
Membre du programme Q-Park
Toilettes
Accessible en fauteuil roulant
Places Handicapés au Wyndham's Theatre
Les spectateurs handicapés et leurs accompagnants peuvent bénéficier de places à tarif réduit. Veuillez contacter le service ACCESS du Wyndham's Theatre au 034 4482 5137.
Adresse du Wyndham's Theatre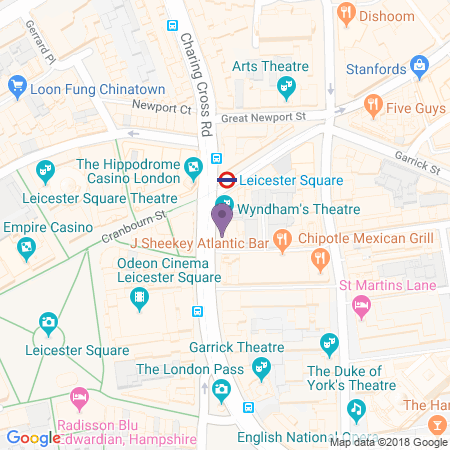 Itinéraire
Accès
Stations de métro
Leicester Square

Covent Garden
Gares
Bus
(Charing Cross Road) 24, 29, 176; (Shaftesbury Avenue) 14, 19, 38
Bus de nuit
(Charing Cross Road) 24, 176, N5, N20, N29, N41, N279; (Shaftesbury Avenue) 14, N19, N38